Resilience Engine Privacy Policy
The Resilience Engine is a private limited company delivering a range of services to make resilience accessible to everyone. These services include consultancy, coaching, workshops and on-line learning solutions.
We take your privacy seriously and will only use your personal information to provide the information and services that you have requested from us.
This privacy policy explains how we use any personal information we collect about you in our services and to keep in touch with you.
Topics:
What information do we collect about you?
We collect information about you when you sign up for our publications, sign up for the demo of our online services, fill in the contact form on our website and/ or when your details are provided by your employer for the Resilience Engine services such as online toolkits, guides and programmes.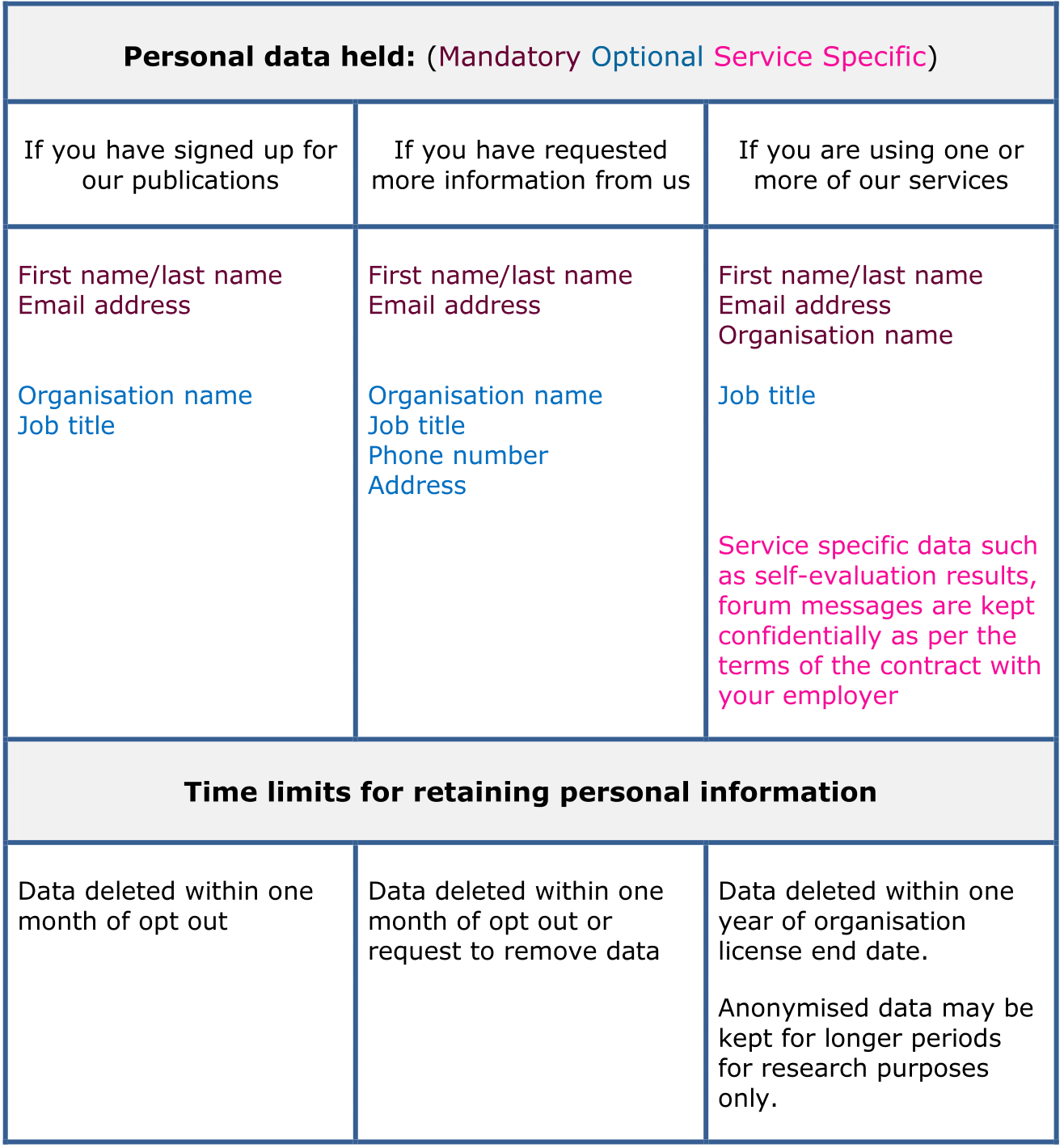 How will we use the information about you?
If you have signed up to receive our publications, your information will be used to:
Provide publications that you have signed up for via our website
Contact you based on your interest in our publications to offer further services that we think may be of value to you
If you have requested further information from us, your information will be used to:
Contact you to provide information about our publications and services that we think will be of value to you
If you are a participant or user of our services, your information will be used to manage the provision of services to you. This is fully detailed in our contract with your employer and includes:
Setting up participant lists for programmes
Setting up log in details for online services
Collecting and providing feedback on the effectiveness of the programmes
We will only share such information as required to deliver the agreed programmes e.g. providing participant lists to our accredited practitioners to enable delivery of Resilience Engine services
For our accredited practitioners only, we collect information:
To send invitations to join our community of practice network
provide information on upcoming community of practice CPD events, potential joint opportunities and information about your accredited practitioner licensing status
We will not share your information with any other organisations outside the Resilience Engine without your explicit consent. From time to time, we may check with you that we have the correct data so we can keep in touch with you.
Publications
We would like to send you publications on resilience which may be of interest to you. If you have consented to receive them, you may opt out at a later date using the link at the bottom of the emails.
Marketing
If you have contacted us to learn more about our services and no longer wish to receive any information from us, you can opt out by email:
[email protected]
You have a right at any time to stop us from contacting you for marketing purposes or giving your information to other parties that you have previously agreed to.
Access to your information and correction
You have the right to request a copy of the information that we hold about you. If you would like a copy of some or all of your personal information, please email
[email protected]
or write to us at the following address: The Green House, 41 St Bernard's Crescent, Edinburgh EH4 1NR We want to make sure that your personal information is accurate and up to date. From time to time we may check with you that we have the correct data so we can keep in touch with you. You may ask us to correct or remove information you think is inaccurate.
Website cookies
Cookies are text files placed on your computer to collect standard internet log information and visitor behaviour information. This information is used to track visitor use of the website and to compile statistical reports on website activity. See
https://www.resiliencengine.com/cookie-policy/
You can set your browser not to accept cookies however in a few cases some of our website features may not function as a result.
Data Security
All personal data is stored and handled by the Resilience Engine to minimise the risk of loss or theft.
Data Handling Suppliers
We are using other suppliers e.g. CRM systems; survey systems; and platforms to deliver the Resilience Engine services online services. We commit to ensuring that these data handling suppliers meet the GDPR requirements relevant to the protection of the privacy of your personal data.
Other websites
Our website contains links to other websites. This privacy policy only applies to this website so when you link to other websites you should read their own privacy policies.
Changes to our privacy policy
We keep our privacy policy under regular review and we will place any updates on this web page. This privacy policy was last updated on 3rdApril 2018.
How to contact us
Please contact us if you have any questions about our privacy policy or information we hold about you: by email:
[email protected]
or write to us at: The Green House, 41 St Bernard's Crescent, Edinburgh EH4 1NR