Resilience River metaphor
How is your Resilience River?
Lets get you thinking; consider the following situation; when a river is high, the water whooshes over the rocks, not taken off course, and the rocks are respected but not dominant. Conversely, when the water is low, it's the opposite effect. The rocks are felt much more, out of perspective, and the river can be pushed off its course. There is a tremendous effort in getting a good flow of moving towards where the river needs to go.
Knowing where your own resilience at any one moment helps define the capacity you have for what you have to do. This awareness defines your performance, defines your ability to drive towards a set of goals or whether you can be taken off course. Being aware of your capacity also defines the pace you can enact on and whether you feel good or not good.
Use this power metaphor to support your resilience
Resilience underpins all sustainable sucsess in life.

Jenny Campbell, Founder and CEO of the Resilience Dynamic, Senior Executive Resilience Coach and Resercher
The Science behind building personal resilience
The Resilience Dynamic has been researching resilience for over 17 years, and below, you can see our research timeline. We use a coaching methodology and the Resilience Dynamic framework to support clients on their pathway to resilience. To read all about the science behind resilience, read our papers here.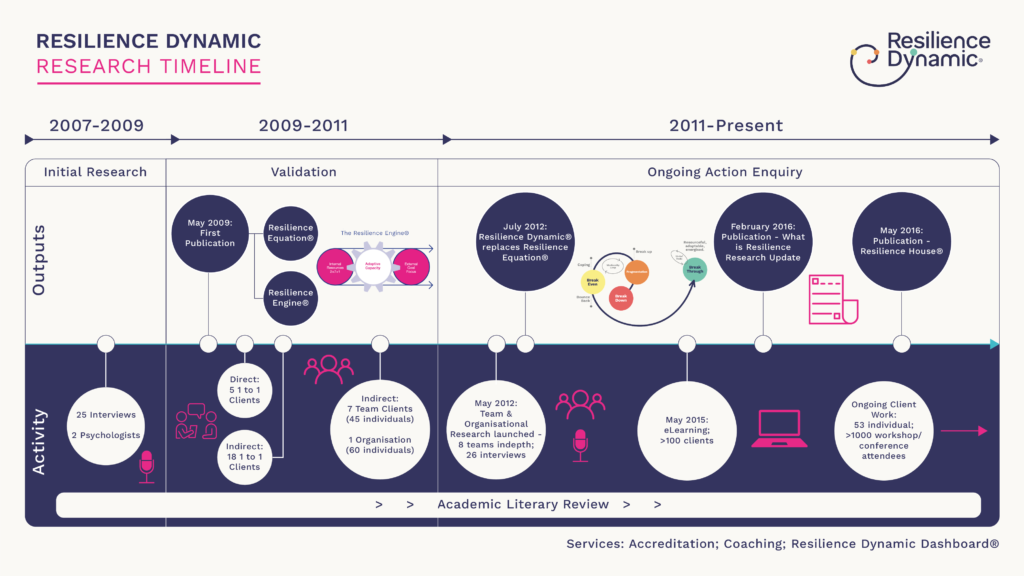 Where to start? Give the Resilience River video a watch and complete our Resilience Dynamic Self-Assessment, where you can find out where you are in terms of personal resilience.
If you want another way? Buy the Resilience Dynamic Book to get you started on your pathway to resilience.
Author: Jenny Campbell Founder and CEO of the Resilience Dynamic
Follow Jenny on LinkedIn for more of her thoughts, resilience research, and ideas.